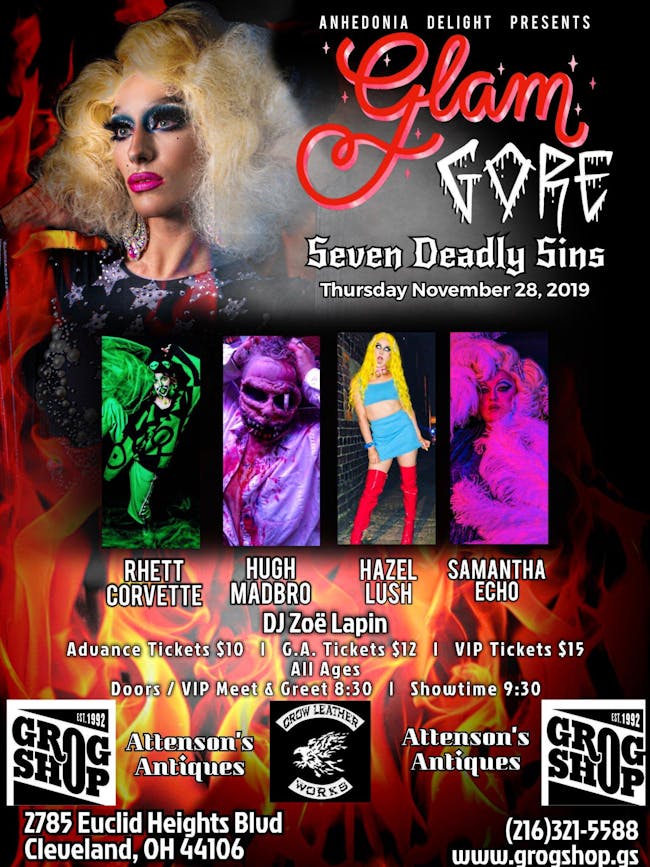 GlamGore Monthly Drag Show
GlamGore Monthly Drag Show w/ Anhedonia Delight
Thursday November 28th
Doors at 8:30pm / VIP 8:30pm / Show at 9:30pm
$10 advance / $12 day of show / $15 VIP
Tickets on sale now!
Cleveland's "Oldest Soul" Anhedonia Delight is proud to present GlamGore, a reoccurring drag show series housed at the legendary Grog Shop!
It's an ALL AGES alternative drag show series, GlamGore: Seven Deadly Sins THURSDAY, NOVEMBER 28th! Yes, this is a Thanksgiving show and we are pumped to bring you performances inspired by Dante's Divine Comedy a la "Purgatorio"! Get ready to see some on stage inspirations based on greed, lust, envy, wrath, gluttony, sloth, and pride!
Be ready for a sick cast including Cleveland's very own Rhett Corvette & Cleveland Scene's Best Drag Queen 2019 Samantha Echo alongside Canton's queirdo, Draven Hugh Gatte (Hugh Madbro, & special guest from Columbus, OH and Cult of Controversy's, miss Hazel Lush! Music provided by Zoë Renee Lapin, Flyer created by Carly Uninemclite and event sponsored by Attenson's Coventry Antiques & Books & Crow Leather Works / Crow Ganotsi
For more information, please visit www.grogshop.gs or call (216) 321-5588 for details!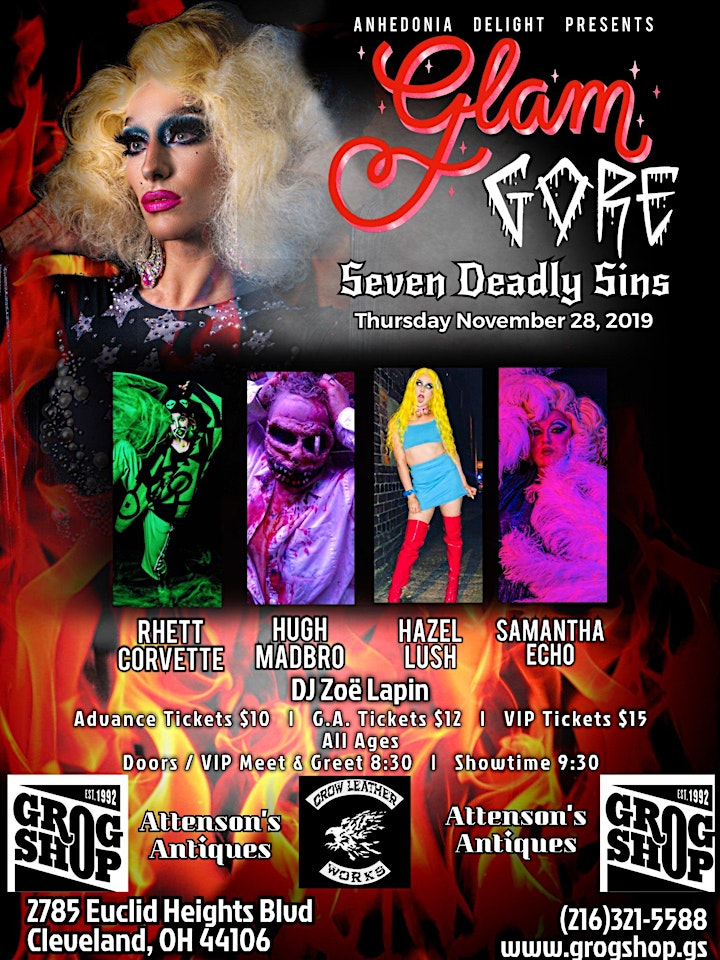 Venue Information:
Grog Shop
2785 EUCLID HEIGHTS BLVD
CLEVELAND HEIGHTS, OH, 44106